National Museum of Australia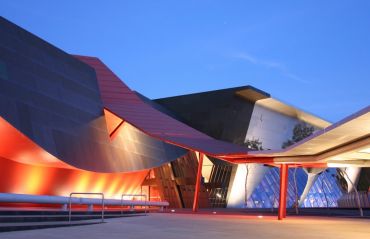 One of the most important attractions of Australia - National Museum in the capital Canberra. Modern building in the style of the postmodern museum is located on a small peninsula area of Acton. In the central part presents an interesting sculpture in the form of a map of the continent on the water called "The Garden of Australian dreams."
The museum's exhibits are all Australian history, from the ancient culture of the tribes before the Olympic Games in Sydney in 2000. Valuable artifacts - stone tools and drawings Aboriginal bark. Only museum features several permanent exhibits thematically divided, which are devoted to the development of society on the continent. Also regularly hosts temporary exhibitions. Collection, walls painted in bright colors, orange sculpture in the form of loops "Uluru Line" and all parts of the museum focus attention on the fact that in Australia's history, millions of different fates are intertwined.
The museum is in a half-hour walk walking west from the center of the town, you can also take the bus. Hours: daily from 9 to 17 hours. Admission is free.