Canning Stock Route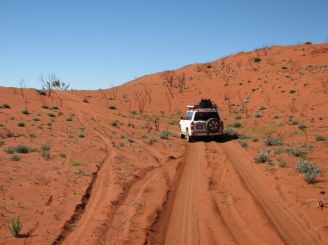 In the western part of Australia's historic route Canning Road. This highway stretching about 1,600 kilometers, which runs through the red sands Minor Sandy Desert, between the towns of Halls Creek and Viluna.
Originally intended for highway driving of cattle, its construction was started in 1906 and lasted for several years. The main difficulty was equipment wells along the highway. Today Canning Stock Rout is used only for tourism purposes.
Many researchers dream to beat the red sand road. For such an extreme trip need a lot of energy and endurance, because the path may take about 20 days. In the desert, home to several tribes, communicating with their representatives and the greatest interest among travelers. You can learn about the culture of ancient communities, see rock art, which is more than 10,000 years.
To make a trip to the historical path, you must first obtain the necessary permits. Deserted road and extreme, before hitting the road should also prepare a stock of provisions, water, spare parts and consumables. Should take care of a four-wheel drive vehicle and driving skills in the wilderness.